Founder and CEO of Rainworks - Laurie Dee, is still recognised by many New Zealanders from the days when his name was a household word on television entertainment shows.
Prior to television, Laurie had studied agriculture and had gained a trade certificate in engineering. The Auckland water crisis of 1994/95 prompted him to start developing tools and accessories that would help city folk capture and conserve rainwater.
Laurie Dee`s talent as an inventor is well documented in two books: "Kiwi Ingenuity" by Bob Riley and "Inventions from the Shed" by Jim Hopkins. Virtually all of the products he has developed have received critical acclaim. His Hedgehog gutter filter has won awards in New Zealand, Australia and the United States of America. The Australian Hardware Journal going so far as to name it – "Best New Hardware Product of the Year"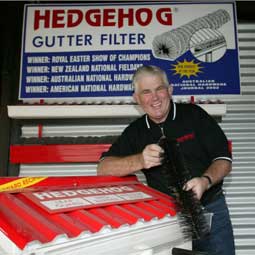 With custom made gutter cleaning tools and their ingenious three dimensional gutter guard filters, Rainworks Limited in New Zealand (NZ)
have made "Hedgehog" a leading brand in gutter protection systems.