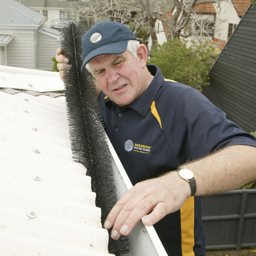 Independent judging panels in New Zealand, Australia & the United States of America all agreed that our innovative three-dimensional bristle filter system is The ultimate in gutter protection.

The Australian Hardware Journal named this Kiwi invention "Best New Hardware Product of the Year"
What makes Hedgehogs so special? First, there`s the fit. Hedgehog gutter filters are custom trimmed to fit the profile of your gutter. We carry 3 profiles in stock and are happy to quote on special orders.
Then, there`s versatility – each piece (metre or half-metre) is a complete filter in itself. This means you can install a single piece over a rainhead in a light leaf-fall area or butt them end to end for continuous protection in areas prone to heavy leaf-fall.
Hedgehog filters are quick and easy to install and equally simple to maintain. No need to drill, screw or lift sections of your roof with this system - Hedgehogs help ensure your roof remains watertight!
If ladder climbing isn`t for you, simply give us a call and we will arrange for one of our accredited installers to quote on doing the job for you.
Hedgehogs have earned their reputation for effective screening against everything imaginable pine needles, rimu, oaks and pohutakawa, as well as bird's possums and rats.


Hedgehog gutter filters can be used with all types of roofing including: slate, shingle, glass & butynol. They are also ideal for roofing valleys and rainheads as well as driveway and swimming pool channelling.
The polypropylene bristle we use contains two UV inhibitors that give a lifespan of 15-20years. The wire core protection exceeds that found on traditional No8 wire.
All components and sealants are guaranteed safe for the collection of drinking water. And come with a 7-year manufacturers warranty. Certified installer installations carry a 12-month money-back guarantee of customer satisfaction.
HEDGEHOG™ GUTTER FILTERS
Stop everything but the rain.
With custom made gutter cleaning tools and their ingenious three dimensional gutter guard filters, Rainworks Limited in New Zealand (NZ)
have made "Hedgehog" a leading brand in gutter protection systems.